Productivity
Productive month. As I had desired for June.
Informing.org
Got much done for informing.org design
Label

of words in-paragraph
whole paragraph
several paragraphs (section)

Expandable UX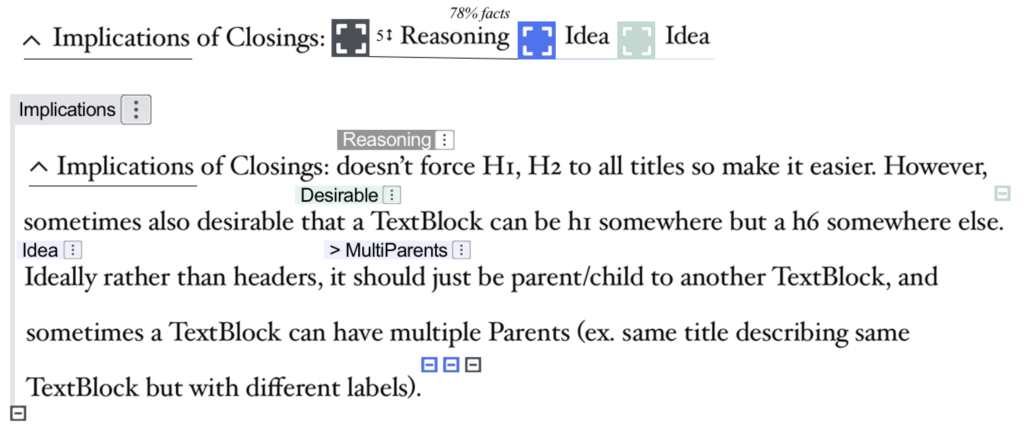 CSE
Got new organization setup. A timelog system that works.
Doing good progress on the development.
Web3 Foundation News
Got recommended from a friend to apply to Idea Bounty of re-structuring ecosystem of online news.
In this challenge, we want you to rewrite the rules on how we experience media online. [..] Web3 is uniquely positioned to create a healthier media landscape through transparency, incentives, identity, and reputation. We leave it to you to design the new conditions for trust in media, and offer the following provocations as a place to get started
Thus far I been writing around 3.000 words on Knowledge Consenus, Reputation, Modern UX. Will publish the paper on Informing.org and send into Web3 Foundation before 10th July.
Personal
Moving
Moved to Prague late May and found a very nice co-working space with an outdoor area and great co-workers. Now I left Prague late June to live in Stockholm.
Enjoyment
Did some hiking, found the Czech nature beautiful. Found good companions to hang out with in Prague. Philosophical Meetup was wonderful, something I'll set up in Stockholm.
Remain productive
I now have a base to stay for a few months. As mentioned moving to Stockholm this afternoon. Either way, June was a fairly productive month and I believe July will be even better. Getting closer and closer to large-scale-impact projects being built.
I'm glad if you enjoyed readings this.
Best wishes,
Erik